Picture Instruments Look Converter 2.0.4
Look Converter
是滤镜-lut转换软件
使用我们的Look Converter
允许你
:
将中性滤镜作为JPG图像保存到计算机
在任何软件或应用程序中为此滤镜应用着色效果
颜色,亮度和饱和度的所有调整将保存到此滤镜图像
使用Look Converter,您可以将自制
滤镜
转换为LUT.3dl .cube和.mga
格式
此外,您可以从我们网站的滤镜共享区下载许多滤镜,然后使用Look Converter将其转换为LUT,以便在Photoshop和视频编辑软件中使用。。。。。。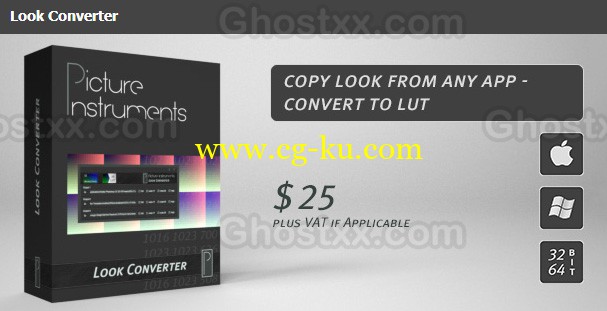 With our Look Converter!
The Look Converter allows you to
Save a neutral filter as a JPG-image to your computer
Apply coloring effects to this filter in any software or app
All adjustments in color, brightness and saturation will be saved to this filter image
With the Look Converter you can convert your self-made filters to the LUT formats .3dl .cube and .mga
In addition you can download many filters from the filter sharing area of our website and then use the Look Converter to convert them into LUTs for the use in Photoshop and video editing software.
You can use all filters you have created or copied via our neutral filter in Look Converter in our software Unlimited Filters as well.
Have a lot of fun working with Looks and LUTs.