SmartBIM library
在优质、参数化的BIM内容领域里,SmartBIM的创建者,自BIM诞生以来,一直都在做简化Revit中使用建筑产品对象的工作。这个月他们发布了他们的王牌产品SmartBIM库,其特点是有拖放(drag-and-drop)功能,从而用起来更加容易。
库
SmartBIM的库提供数据,丰富的BIM对象和空间,只是简单的发现,查找,下载,比较,共享和组织,让你的工作流程是正确的行业标准。
生态产品文档
绿色建筑的做法是正确的设计到设计过程中,提供了关键的环境数据和易于使用的文件和分析工具。
SmartBIM
Revit项目的早期预算
制造商,建筑师,工程师,承包商和业主可以在设计的最初阶段对成本的情况进行审查核实。
从Revit中以求实,快
在几分钟内创建游戏的品质,,而不是几小时,完全身临其境的三维环境。整个团队共享和协作,甚至包括那些没有建模体验可言的人。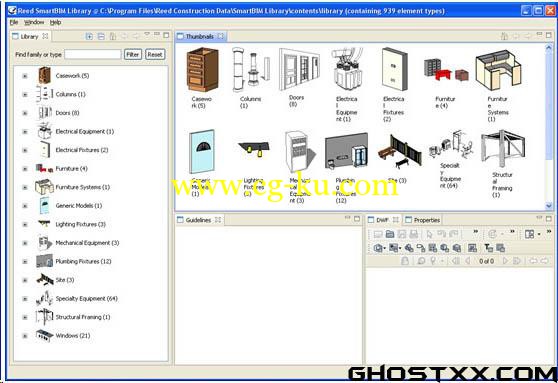 SmartBIM is a leading provider of BIM content creation and discovery, BIM tools and AEC market intelligence serving both the building professionals and manufacturing communities.
The principals of our firm are pioneers in information technology, architectural modeling, construction data, and sustainability assessment. They have spent their careers creating information systems for the building industry. We offer an evolving suite of products and services designed to ease the creation, adoption and use of BIM objects and methodologies.
Faster, greener, better decisions built right into your workflow
SmartBIM
Library
Redefining high-quality BIM content discovery
Recently rebuilt from the ground up, SmartBIM Library has raised the industry standard for data-rich BIM objects and spaces that are simple to discover, locate, download, compare, share and organize, right from within your workflow.
SmartBIM
ecoScorecard
Eco product documentation
Green building practices are engineered right into the design process, offering key environmental data and easy-to-use documentation and analysis tools.
SmartBIM
costCheck
Early cost checking for Revit projects
Manufacturers, architects, engineers, contractors and owners can collaborate on cost scenarios in the earliest stages of design.
SmartBIM
VIMtrek
From Revit to realistic, fast
Create gaming-quality, fully immersive 3-D environments in minutes instead of hours. Share and collaborate with the whole team, even those with no modeling experience at all.