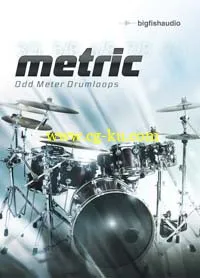 超过 1000 DRUMLOOPS
2012 |繁多 |AIRISO |2.95 GB
样品的世界充满了 drumloops,不幸的是不是有很多都是在时间签名以外 4/4。对于那些 3 月到一个不同的鼓的节奏,我们目前超过 1000 个 drumloops 在 3/4、 5/8、 6/8,7/8 和9/4 时间签名此集合。这是有点奇怪,但这完全是你想要它!有 17 个不同团体的循环节奏和时间签名,所有在酸化 RMX 雷克斯,苹果圈、 WAV 格式组织的。不要害怕开关起来有点与度量:奇米 Drumloops。
3.7 GB 的总含量
-1000 多苹果循环、 酸化底壳和 REX2 文件
-时间签名包括 3/4、 5/8、 6/8,7/8 和 9/4。在 4/4 没有循环!
OVER 1000 DRUMLOOPS
2012 | MULTIFORMAT | AIRISO | 2.95 GB
The sample world is full of drumloops, unfortunately not many of them are in time signatures other than 4/4. For those who march to the beat of a different drum, we present this collection of over 1000 drumloops in 3/4, 5/8, 6/8, 7/8, and 9/4 time signatures. It's a bit odd, but that's exactly the way you want it! There are 17 different groups of loops organized by tempo and time signature, all in acidified WAV, Apple Loops, REX, and RMX formats. Don't be afraid to switch it up a little with Metric: Odd Meter Drumloops.
3.7GB of total content
- 1,000+ Apple Loops, Acidized WAVs, and REX2 files
- Time signatures include 3/4, 5/8, 6/8, 7/8, and 9/4. No loops in 4/4!