Simple Shop POS软件是一个独特的程序提供了所有在一个易于使用的高端项目的效益,可靠的接口,任何企业的所有者可以浏览并从中受益。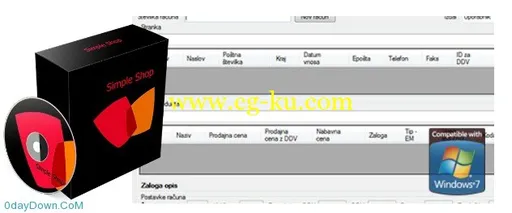 Utilizing a point of sale (POS) system is critical for any type of business. There are dozens of benefits to these programs aside from the time and money that they save business owners. With so many different POS programs to choose from it is often hard to determine which will be the best for your business. Simple Shop POS software is a unique program that offers all of the benefits of a high end program in an easy to use, reliable interface that any business owner can navigate and benefit from.
Simple Shop will provide both small and large companies with capabilities that meet the highest demands, as well as use of potentially redundant features.
Features of Simple Shop:
From the moment you open Simple Shop you will feel at ease with its basic interface. Tabs at the top direct business owners to inserting employee information, adding invoices to be paid, processing orders and managing online shopping carts. This Windows compatible program is designed to work with any type of POS printer which means there will never be new computers or printers to purchase. Additionally, Simple Shop caters to business owners around the world with its multi-language option. Regardless of whether you operate a bakery, a processing plant or a small hair salon; Simple Shop can offer the POS features you need in this all-in-one software.
Benefits of Simple Shop:
Improved customer relations through better communication and order processing.
Impressive customer service through an easy to use interface that keeps employees working instead of navigating the screen.
Easy invoicing with the all-in-one approach that allows Simple Shop to manage eCommerce shopping carts, input invoices and email or fax work orders all at once.
Invoice management which means that no invoice will be forgotten to be paid or billed to the client.
Sales trend monitoring through the system data collection which will track spending trends for your business and its customers to help you be more efficient.
Increased efficiency and less stress, time and money because Simple Shop handles all of the backend aspects of running your business.
Easily produce POS bills, A4 Bills, A4 Proforma Invoices.
RFID Card Detection