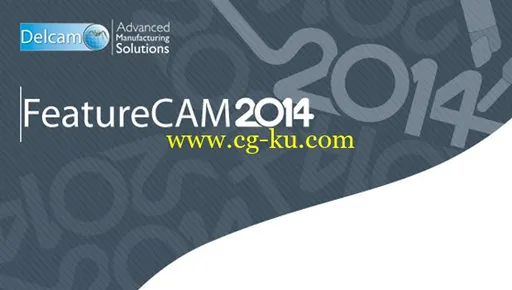 Delcam FeatureCAM是基于特征、基于知识、使用自动特征识别技术AFR和交互式特征识别技术IFR的全功能智能CAM系统。独特的基于特征、基于知识的加工功能组合使得用户可以在很短时间,接受少量培训的情况下,自由创建稳定、可靠的刀具路径。强大的自动特征识别功能,加速了从设计到加工的全过程,使用它使零件加工编程更方便,更简单,可极大地缩短加工编程时间,加工管理也更加有效。
Delcam FeatureCAM 2014 R1 SP3 (x86 / x64) | 715 MB / 776 MB
What's New in FeatureCAM 2014
FeatureCAM 2014 focuses on faster and easier programming with Vortex for 2.5D features, and new options for turning, 4-axis rotary machining and turn-mill operations.  Fillets can be added to any sharp corners for turning operations, such as automatic deburring, without having to edit geometry. Turning simulation is more realistic with support for steady-rest and tailstock operations combined with automatic collision detection.  In addition to improved probing routines, support for 4-axis rotary tables has been enhanced to allow 2- or 3-axis operations to be wrapped around the rotary axis. Dedicated strategies for two-axis finishing give you greater programming control and better machining results.
Delcam launches the 2014 release of FeatureCAM feature-based CAM software. The release includes a number of new options for turning, four-axis rotary machining and turn-mill operations. Other enhancements in this release include more strategies for two-axis finishing and easier programming of probing sequences.
What's fixed in version 20.0.1.40:
A-033627 B FIXED FC Machine sim: New OnSave code in machdsgndoc.cpp has broken tool blocks, so consequently, you can't make a turning machine.md file anymore. related to
A-033379 B FIXED FC Tooling: Probing: Copy Crib command in Tool manager doesn't copy probe tools
A-033414 B FIXED FC Tooling: In the tool properties of the Probe tool it is possible to input wrong values for parameter Lower Shank diameter.
A-033424 B FIXED FC Tooling: Wrong probe shank representation if difference between Shank length and Taper length less than value that about Ball radius
A-033426 B FIXED FC Tooling: In the Tool properties window pasting copy of curve into graphics window for Probe and Side mill tool groups creates incomplete geometry of tool profile.
A-033427 B FIXED FC Tooling: Wrong tool shank of probe tool if tool shape is described using curve
A-033571 B FIXED FC Simulation: 3d sim: Tooling: Probing simulation toolpath not aligned with center of ball
A-033572 B FIXED FC User interface: Tooling: Tool manager preview window scales incorrectly for probe tools
A-033573 B FIXED FC Form Tools: Geometry Constructors: Tooling: User interface: When using probe tool or side mill form curves to create a tool the neck/stem parameters are ignored or incorrectly displayed
A-033574 B FIXED FC Tooling: When creating a new side mill tool (not renaming or copying) the neck length parameter is changed to 0 when the new tool is created
A-031263 B FIXED FC TPEDIT: Fails to create toolpath feature correctly for STRATEGY[ Cycle = Turn, Toolpath = Offset] turning feature
A-033635 B FIXED User interface: Need more space in dialog for strings "End Cut" and "Side Cut" forRussian translation,
A-033608 F FIXED D XPRESS: master code to be distributed to users who contact download support saying that they havenтАЩt received the email with the code.
A-033493 B FIXED FC Probing: Probe tool takes tool number of following cutting operation in nc-code if probe operation is first in operation list.
A-033683 B FIXED Machine sim: The haas vf.cnc seems to have a g53Z0 in the segment start if indexing, but the haas-vf5.md does not have that flag set.
A-033084 B FIXED FC 2-axis milling: Vortex: Helical ramping generated even though 'Helical ramping' option is disabled in the plunge tab.
A-032998 B FIXED D,FC 2-axis milling: vortex: Side Feature shows Vortex in stepover
A-033093 B FIXED API: Switching between UDFs definitions a few times generates zombie features and ghosts
A-032485 B FIXED FC GPF: FC crashes after changing StandardProbing.dll loading from some version to v19.2.0.12.
A-033693 B FIXED D User interface: 3D strategy names in Part Tree
A-033760 T FIXED Build: Need to be able to build installer only for both 32-bit and 64-bit versions of FC. Right now we can only do full build of FC 64bit.
A-033730 B FIXED FC User interface: Symbol ":" in the feature name causes incorrect selection between the feature tree view and the operation list view.
A-033729 B FIXED FC User interface: Symbol ":" in the feature name causes wrong property page selection when double-clicking in the operation list.
A-033677 B FIXED FC user interface: The small version of the closed curve button (of chaining) is incorrect.
A-029253 B FIXED Machine sim: Verify the 5-axis simultaneous results of $dev\testing
............and more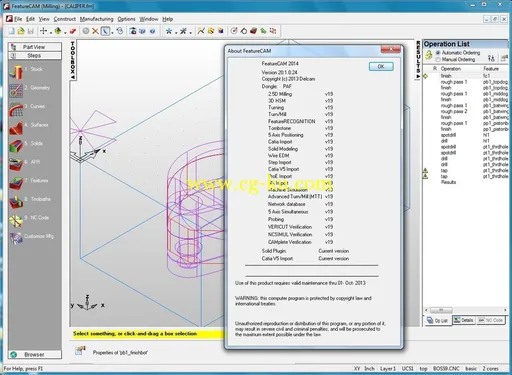 About Delcam plc
Delcam is a world-leading developer and supplier of advanced CADCAM software, with more than 35,000 customers in over 80 countries. These clients vary from global names like Nike, Boeing and Mattel to small start-ups and individual craftsmen. Founded 30 years ago, we are the largest developer of product development software in the UK, with subsidiaries in Europe, America and Asia. Our global success has been recognised with many awards, including three Queen's Awards for Enterprise in the last six years.
Name: Delcam FeatureCAM
Version:2014 R1 SP2 x32/x64
Interface: multilanguage
OS: Windows XP / Vista / Seven
Size: (x86 / x64) | 715 MB / 776 MB
Special Thanks Team-SolidSQUAD