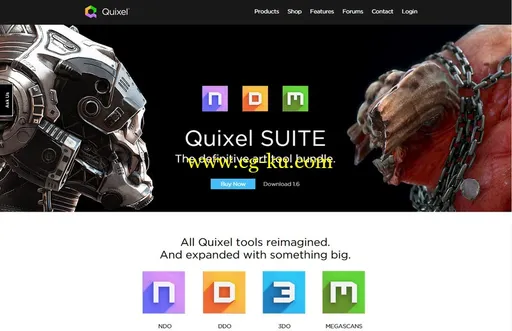 Quixel's immensely popular NDO and DDO have been completely reimagined, bringing faster texturing experiences than ever. 3DO, a new previewer included with all tools for free, throws physically based rendering into the mix. And finally; Introducing MEGASCANS, the world's largest real-world surface scan resource.
MEGASCANS - Materials evolved.
MEGASCANS is a new breed of material library, finally bringing full real-world surface scans to the art community. Browse, preview and download 1000+ materials scanned with Quixel's groundbreaking HDR surface capture technology and experience real diffuse, specular, normal, translucency, AO and much more.
NDO - Normals made easy.
NDO is the definitive normal mapping tool that turns Photoshop into a complete normal creation toolkit. Use every tool Photoshop has to offer to sculpt normals in real-time, build non-destructive hard-surface designs, extract rich normals from photos with unrivaled definition, and instantly preview every tweak in 3D.
DDO - Texturing made easy.
DDO empowers artists with tools to make better textures. DynaMask unlocks extreme masking control over ultra-real wear & tear and shape based coloration. The 100% customizable Smart Materials empowers artists with the easiest PBR workflow to date. And Fusion lets you plug DDO right into any app.
3DO - Let's get physical.
3DO is a light-weight model and material previewer directly fused with Photoshop, enabling you to review your work without needing to jump between applications. With a customizable physically based renderer, cinematic post processor and support for loading your own multi-material meshes, 3DO is the perfect texturing companion and comes bundled for free with NDO, DDO and MEGASCANS.
Updates: official site does not provide any info about changes in this version
Release: Quixel.Suite.v1.8.x64-NEWiSO
Size: 1.95 GB