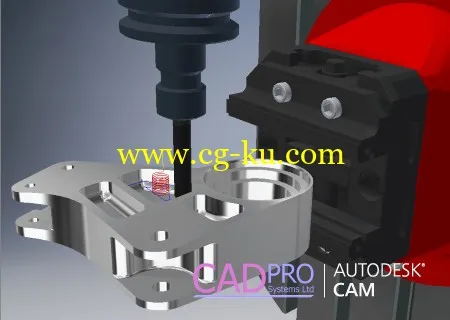 Autodesk Inventor HSM Pro 2017 | 5.5 Gb
Autodesk Inc., a world leader in 3D design software for entertainment, natural resources, manufacturing, engineering, construction, and civil infrastructure, announced the release of Inventor HSM Pro 2017. This integrated CAD/CAM solution helps designers, engineers and CNC programmers rapidly turn their Autodesk Inventor models into machined parts directly inside the Inventor design environment.
Inventor HSM provides a truly integrated design-to-manufacturing solution for users, allowing them to get up to speed and become productive within minutes by using consistent tools and a seamless workflow. In addition to standard machining strategies for 2.5D, 3D, 3+2, and 5-axis machining toolpaths, Inventor HSM offers advanced toolpath strategies for high-efficiency machining, integrated simulation and verification tools, and post-processor system to help achieve higher productivity, increased profits, and shorter time-to-market.
What's new in Autodesk Inventor HSM 2017: HERE.
About Autodesk
Autodesk helps people imagine, design and create a better world. Everyone—from design professionals, engineers and architects to digital artists, students and hobbyists—uses Autodesk software to unlock their creativity and solve important challenges.
Name: Autodesk Inventor HSM
Version: (64bit) Pro 2017
Format: .sfx
Home: http://www.autodesk.com
Interface: english
OS: Windows 7even / 8 / 10
Size: 5.5 Gb