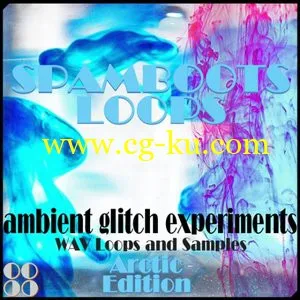 密码: bepu
Spamboots Ambient Experiments Arctic Edition | WAV | 746 MB
'Ambient Experiments: Arctic Edition' is the latest release from Spamboots Loops. You will find cold, atmospheric, glitchy samples and textures in this "Arctic Edition" that contains a huge selection of loops, pads, soundscapes and FX.
With over 100 icy textures and soundbeds, and over 250 Ambient experimental Glitch loops and FX, it is easy to find something to cool down your tracks, or to add a cold industrial style soundbed to your film scores or music projects.
Ideal for any genre and in easy-to-use WAV format, these samples are ready to be 'dragged and dropped' straight into your chosen production software.
The samples can be used as they are, or played around with and manipulated to your heart's content.
Also contained in this download is a bonus pack of scratch loops, one-shots and FX, all with an icy feel.
Contains:
• 154 experimental Glitch loops
• 113 glitchy Ambient textures
• 107 glitches and FX
• 62 scratch loops
• 85 scratches, FX & one-shots
• Glitch Experiments MP3 demo
• Image file & thumbnail
• Download size: 911 MB
• Sample pack size: 1.08 GB (unzipped)
• 524 files across 5 folders
环境试验spamboots北极版| WAV | 746 MB
"环境实验:北极版"是从最新发布的spamboots环。你会觉得冷,大气,在这个"北极版"包含一个巨大的选择圈,垫出问题的样品和纹理,音景和FX。
与超过100个冰冷的纹理和soundbeds,超过250环境实验故障回路和FX,它是容易找到一些冷静下来你的轨道,或以添加一个冰冷的工业风格soundbed到你的电影配乐或音乐项目。
理想的任何流派和易于使用的WAV格式,这些样品是准备"拖放"直接进入你选择的制作软件。
这些样本可以被用作他们的,或是围绕着你的心的内容和被操纵的。
还包含在这个下载是一个额外的包的划伤循环,一个镜头和外汇,所有与一个冰冷的感觉。
包含:
•154实验故障回路
113个问题•环境贴图
•107毛刺和FX
62搔循环
·85刮伤,外汇及一杆
•故障MP3演示实验
图像文件和缩略图
下载大小:911 MB
•样品包大小:1.08 GB(解压缩)
在5个文件夹中有524个文件