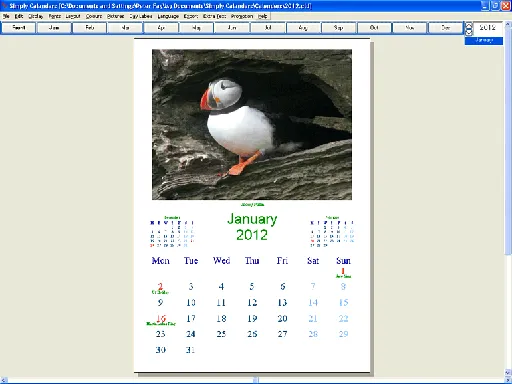 一款日历制作软件,以选择从世界各地显示各种活动。 例如,您可以包括来自加拿大,墨西哥,美国,英国,法国,德国,希腊,意大利,西班牙,爱尔兰,澳大利亚,中国,日本,俄罗斯等许多国家的事件。
Simply Calenders 5.x Multilingual | 14.9 MB
The calendars you find at your local shops might look cute, but they may not be exactly what you're looking for. Simply Calendars is a program that can help you create personalized designs. The software comes with an easy-to-use interface and a wizard that takes you through all the steps required to design your own calendar. As such, you can choose one of the supported calendar types (month, duplex month, year or week planners, special, financial and academic), as well the style particular to each of them. Also, you can choose any year from 1900 and up to 2100 and the language. A color scheme can be defined and you can also choose to display various events from all over the world. For example, you can include events from Canada, Mexico, US, Great Britain, France, Germany, Greece, Italy, Spain, Ireland, Australia, China, Japan, Russia and many other countries.
Furthermore, you can include various religious events, as well as mark Easter and Passover. Further customization options allow you to select a picture for each month or week, depending on the calendar format you chose. Front page images can also be set. Other details that can be added to the calendars include week numbers, moon phases, solstices and equinoxes, as well as daylight saving dates (European, American and Australian). Furthermore, you can choose any type of font you want for various entries, such as title, header, weekend and day labels and many more. The software also comes with a built-in image editor that can help you customize the images for each calendar page. Simply Calendars allows you to export your work in PDF or TIF format. You can also define the quality of the file. The software has a user-friendly interface that should be easy to figure out, even if you have never used a similar app before.
Here are some key features of "Simply Calenders":
Print PDF
Support for GIF transparency
PDF Viewer
Ctrl + click on date to insert text for that date
Up to 3 main pictures for most month calendars
Italian interface
Day of year 1- 365/6
Filenames may be used as captions on Thumbnail page
Easier selection of calendar components
Integrated Scanning & Image Editor.
Predict and add Christian, Eastern Orthodox, Jewish or Islamic Events.
Moon Phases, Daylight Saving.
Add own events such as birthdays and local holidays.
Export to PDF, JPG, TIFF, HTML
OS :
Windows 8, Windows 7, Vista, XP and 2000
Language
: Multilingual
Home Page
-
http://www.skerryvoresoftware.com/index.php