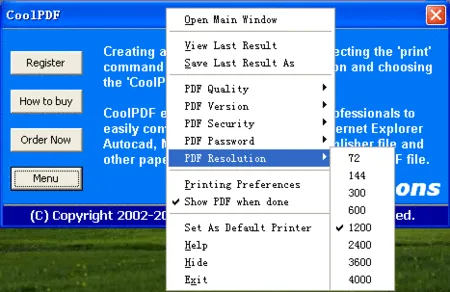 CoolPDF
是一款全球最小的 PDF 阅读器。完全绿色,免安装,启动时间非常快!
它可以转换 PDF 至 TXT,BMP,JPG,GIF,PNG,WMF,EMF,EPS。
唯一比较可惜的是对中文字体支持不好和阅读器本身就不能编辑它
CoolPDF 3.0 | 6.8 MB
CoolPDF is a fast, robust and affordable way to create professional quality PDF documents for both novice and pro. CoolPDF works as a printer driver on all operating systems, making PDF files of anything that can normally be printed.
CoolPDF is a very cost-effective solution for turning just about anything into a PDF. And the coolest thing about it is that it generates PDF documents extremely fast and works with almost all languages in the world.
Features
:
• Up to 4000 dpi resolution
• Large paper size up to 14400 x 14400 points, 200 x 200 inch, 5080 x 5080 millimeters
• Making PDF files of anything that can normally be printed
• Run on Microsoft Windows 98,98SE,ME,NT4,2000,XP,2003, Vista, 2008, and Windows 8, 7
• Color printing and publishing
• Live hyperlink support
• PDF creation is as simple as selecting the 'print' command from any application
• PDF content protection with user password, user password
• Secure PDF documents from being modified, copied, converted, printed, signed, and assembled
• Speedy processing and fast conversion
• A variety of paper sizes and custom paper size
• PDF document properties, including title, subject, keyword, author, producer and creator.
• PDF compatibility option for Abode PDF format
• Automatic font embedding into PDF documents
• Quality control for output such as Default, Screen, eBook, Print, Prepress optimization.
• PDF compression, optimization
• Tested with 1200+ Windows applications
Home Page
-
http://www.coolpdf.com/
Download freakshare
http://freakshare.com/files/vg0j9sgj/CoolPDF_3.0.rar.html
Download filefactory
http://www.filefactory.com/file/17lijzn8b9tp/CoolPDF_3.0.rar