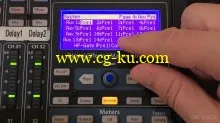 Groove3 - StudioLive AI Explained (2014)
MP4 | AVC 387kbps | English | 1600x900 | 29.97fps | 4h 08mins | AAC stereo 127kbps | 931 MB
Genre: Video Training
PreSonus has done it again with their incredible line of digital mixers! StudioLive AI is the cutting edge of digital mixer technology, and William Edstrom Jr. covers them in full detail, inside and out. If you use these powerhouse mixers, learn to get the most from them as well as an enhanced workflow for increased creativity and speed. In this series, William shows you how to use your StudioLive AI as a stand-alone mixer, mixing for the audience and the stage. To begin, William introduces you to the StudioLive AI mixer and what the series will cover. Then the important basics are shown such as powering up, zero'ing the board, and getting signal from input to output. Next, William explains how to stereo link channels, use the on-board metering, solo-in-place, connecting and mixing the stage monitors, using the talkback feature, scribble strips and more. The powerful channel strip processor "Fat Channel" is then examined in great detail, showing you how to use all of its features and functions. Gating, Compression, Expanding, Limiting, EQ, and Polarity are all shown on the StudioLive AI, giving you the tools needed to craft the perfect mix.
Recalling and saving channel presets is demonstrated, as well as using and tweaking the onboard digital effects like reverb and delay. You'll also see how to add effects to the monitor buss and use external effects with the StudioLive AI. William even shows you how to setup remote room levels and delay individual speakers, and gives a comprehensive look into the Master section of the board, saving and recalling scenes, Radio Solo Mode, using the graphic EQ and much, much more.
If you're ready to get into the world of digital mixing with the PreSonus Studio Live AI, this will be your number one, go to resource. Supercharge your knowledge and StudioLive AI experience... Watch "StudioLive AI Explained" today.
01 Introduction
02 Input to Output
03 StudioLive Overview
04 Input Channels
05 Stereo Linking Channels
06 Metering Explained
07 Solo-in-Place
08 Headphones and Soloing
09 Mixing Stage Monitors
10 Mixing Monitors in Stereo
11 Using Talkback
12 2-Track In
13 Scribble Strips
14 Introducing the Fat Channels
15 Polarity
16 Hi Pass Filter
17 Gate
18 Expander
19 Key Listen
20 Gate Sidechaining
21 Compressor
22 Limiter
23 Equalizer
24 16AI Fat Channel
25 Copying Settings
26 Recalling and Saving Channels
27 Using Digital Effects
28 Tweaking Reverb FX
29 Tweaking Delay FX
30 Saving FX Presets
31 Adding FX to Monitor Mixes
32 Using External Effects
33 Submixing
34 Stereo Submixing
35 Configuring an FX Submix
36 Parallel Compression
37 Remote Room Levels
38 Delayed Speakers
39 System Menu
40 Saving and Recalling Scenes
41 Control Room Monitoring
42 Radio Solo Mode
43 Graphic EQ
44 Firmware Update
45 Mute Groups
46 Mix Scenes
47 Clip Indicators