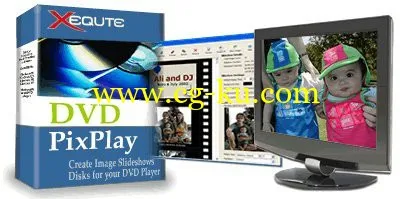 DVD PixPlay 能够将数码照片制作成自动秀图的 VCD,它没有太多复杂的选项,它可以单独设定图片显示秒数、可以插入MP3、WAV背景音乐、还可加入标题文字。软件操作起来也很简便,上手快,运行后会先跳出一个对话框,让用户选择是创建一个新的项目、打开已有项目或是观看软件使用教程,之后跟着一步步提示进行操作即可,你还可以单独对某张照片进行编辑,功能十分丰富。制作完后输出格式支持DVD、VCD、SVCD、XVCD、XSVCD、MPEG、MP4、WMV、AVI (DivX、Xvid、等)。
DVD PixPlay 能帮你将美好的回忆配上优美的音乐轻松制作成经典的视频,软件界面友好,操作简单
DVD PixPlay 8.0.1.414 Professional Edition | 10.4 MB
Create DVD, VCD, or PC slideshows from your photos, videos, and music - and burn them directly to a disc. Your family and friends can play your slideshow discs on their TV with a DVD player, or on their computer. With DVD PixPlay, you'll create personalized discs that are as easy to use as an ordinary DVD. With more than 40 image motion effects and 160 transition effects, you can send your friends and family thoughtful keepsakes that they will cherish forever.
Features
• View your favorite digital photos and videos on your TV
• Or on your computer as an auto-playing slideshow
• Add audio files as background music or your own voice for a commentary
• Add shapes and clip art to your photos (such as Santa hats and speech bubbles)
• Add excitement to your slideshow with more than 40 image motion and 160 transition effects
• Use any image files (JPEG, GIF, BMP, PNG...), raw camera images (CRW, NEF...), common sounds (MP3, WMA, WAV...) or video files (AVI, MPEG...)
• Burn directly to a CD, DVD or Blu-ray disk (for playback in most DVD players, VCD players and computers)
• Easily create a DVD menu and burn multiple slideshows to a single disk
• Easily create title and other text pages
• You can also output video files (AVI, MPEG, etc) to VCD or DVD
• Convert a PowerPoint presentation for playback on a DVD player
• Retrieve images directly from a digital camera or scanner
• Preview your slideshow on your computer before you burn
• Add captions to your photos or automatically use your descriptions from Smart Pix, MegaView, Picasa, PhotoShop, etc.
• Powerful photo editing, including cropping, red-eye removal and automatic rotation of camera photos
• Output formats: DVD, VCD, SVCD, XVCD, XSVCD, MPEG, MP4, WMV and AVI (DivX, Xvid, YouTube compatible), with NTSC, PAL and Widescreen support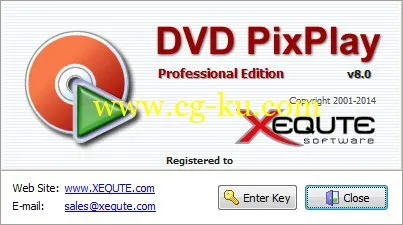 OS :
Windows 8, 7, Vista, XP, 2000 or ME
Language
: English
Home Page
-
http://www.xequte.com/
DVD PixPlay 8.0.1.414 Professional Edition