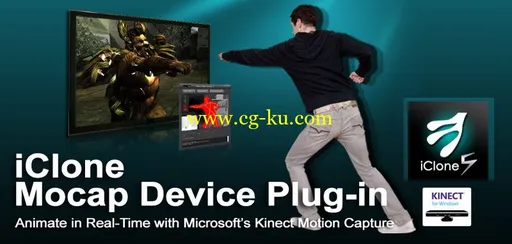 iClone Mocap Plug-in Kinect Motion Capture 1.21.2119.1 | 138 Mb / 138 Mb / 138 Mb
Languages : English - Chines - Deutsch
The Mocap Device Plug-in is the must-have tool that turns iClone5 into a complete mocap studio solution. With this Kinect motion capturing tool, now you can use your own body to control virtual actors, in real-time, with motion smoothing optimizations. Lightspeed your animations and create authentic motions without having to rent an entire mocap studio or even wear a markered jump suit! (plug-in only works with iClone5 PRO edition).
The Hottest Kinect Mocap Features :
Reallusion announces partnership with Microsoft Kinect for Windows enabling real-time motion capture animation for PCs. iClone uses the latest available driver using Microsoft Kinect SDK (besides Open NI SDK) which currently works with computers running Windows 7 or above. It includes enhanced APIs, providing better calibration, more articulate motion data and stability. The mocap plug-in users can download both drivers in their member page after registering the serial number of the plug-in.
Head & Wrist Movement
The Kinect SDK allows end point motion capture, which means your head or wrist movements can be recognized for more natural animation.
Floor Detection & Alignment
With the help of Kinect's auto motor adjustment and floor alignment functions, your feet movement will be better aligned with the virtual floor, preventing unnatural floating foot movement.
Head Rotation
We've added the option of head rotation tracking, which can capture rotation around the x-axis and z-axis. This means you can now make your character nod with agreement, turn its head, or look from the left to the right.
Near Mode
Now you can capture your motion closer to the camera even when sitting in front of the desk. We've updated the Mocap plug-in with Kinect for Windows 1.2, and thanks to the near mode, your motion data can be captured as close as 40cm to the sensor with full accuracy and precision.
Other Motion Capture Capabilities
Aside from the new exclusive features included with Kinect SDK, there are some other great improvements in mocap capabilities for both mocap drivers (Kinect SDK & Open NI SDK).
Mocap Launcher: Half-body Capture & Mask
You are now able to choose "full-body" or "upper body" to perform half-body capture while in a seated position. On the other hand, you can
also mask out specific body parts to combine with existing motion, or add knee rotation constraint for a more stable capture.
Remote Body Commands
No need to walk back to your computer to start or stop recording. Now you can use simple gestures to send commands to the mocap device.
Mirror Capture
Check on the "mirror" option to flip your character's movement from one side to the other.
Motion Smoother
Remove annoying minor motion jitter with the new enhanced motion .
OS
- Windows XP, Windows Vista, Windows 7, Windows 8
Home Page
-
http://www.reallusion.com/iclone/iclone_mocap_device.aspx