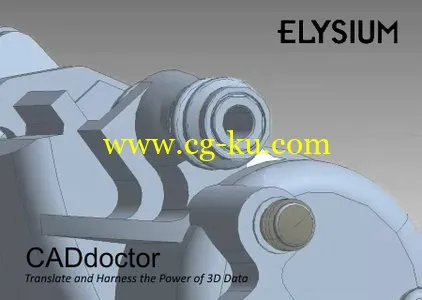 Elysium正式发布CADdoctorEX 6.1,拥有更为强大的修复、简化、模具设计检讨和逆向工程等功能。该软件旨在帮助客户解决3D数据转换中碰到的一系列问题,提升产品设计品质,缩短产品投放周期。
Elysium CADdoctor EX 6.1 with Plugins | 3.0 Gb
Elysium, a leading provider of 3D translation and geometry optimization technology, has released an update for CADdoctor EX 6.0, is a superior-performing 3D data translation and utilization tool that is highly regarded in the CAD/CAE industry and well-known for its robust results and excellent quality.
CADdoctor is the ultimate desktop application software for 3D data translation, PDQ (Product Data Quality) validation, repair and transformation. CADdoctor supports highly precise and reliable data translation among multi-CAD as well as strict PDQ validation. It also provides automated or guided geometry repair functions.
CADdoctor has several different functions offering process specific functions to address 'Geometry Simplification', 'Geometry Verification', 'Reverse Engineering', 'Polygon Handling', 'Mid-surface' and 'Quality Check for Injection Mold Manufacturing'.
Updates included with CADdoctor EX 6.1:
Latest CAD version
- Creo Parametric 3.0 (Creo Import/Export Plug-in, Creo Import Add-on)
- NX I-deas6.4 (I-DEAS Import/Export Plug-in)
- ACIS R25 (ACIS Import/Export Add-on)
- Parasolid V27.0 (Parasolid Import/Export Add-on)
Instancing
- Added the capability to instance identical parts
Enhanced Geometry Simplification
- Added a new check item: Small Gap between Volumes.
Enhanced Reverse Engineering
- Improved the quality of B-rep automatic generation.
About Elysium
With more than 30 years of engineering and technology experience, Elysium develops quality interoperability solutions for digital design and PLM markets, with millions of files translated and thousands of customers worldwide. Our world-class 3D translation and geometry optimization technology has been proven by industry leaders around the world, including Toyota Motor Corporation, Lotus F1 team, The Boeing Company and more than 2,000 other companies.
Our global headquarters are based in Hamamatsu, Japan and our North American headquarters is located in Detroit, MI. European operations are based out of Paris, France. In addition to over 95 employees, we have an international network of partners and distributors.
Name:
Elysium CADdoctor
Version:
EX 6.1 with Plugins
Home:
www.elysiuminc.com
Interface:
multilanguage
OS:
Windows 7even / 8
Size:
3.0 Gb
Special Thanks Team- SolidSQUAD