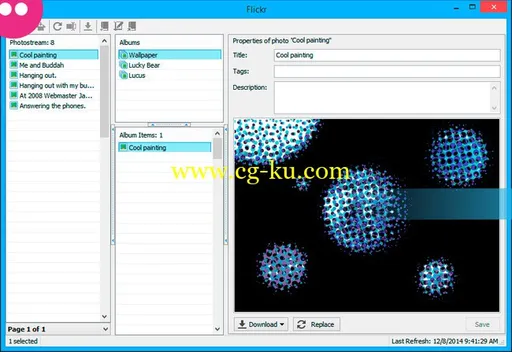 CoffeeCup Places 1.0.186 Retail | 7.3 MB
CoffeeCup Places brings all your web accounts together so you can access them all in one spot. Connect to multiple clouds, social media and FTP accounts to seamlessly upload, download and share files between them all. With everything under one roof, you'll simplify your web life.
Manage your files
One app is all you need for headache free file management across servers, clouds, local storage, social media and more. Transfer files between accounts using a drag-n-drop interface. Even copy, paste, delete, rename, search and more from your Place.
Connect to the Cloud!
Hooking up to the 'cloud' has never been easier. Connect all the major cloud services including Dropbox, Google Drive, Box and One Drive — all from one app. Never has it been so simple to use online storage while keeping easy access to all your cloud data.
FTP/sFTP, yeah.. We got that too.
File transfers between hosting accounts are now a snap! Connect to various hosting accounts at the same time and easily transfer data between them. Switching hosting providers? This cool app makes it super easy to move the whole site with peace of mind!
Social Media
Sharing your favorite moments and tagging memorable photos on Instagram and Flickr is now at your fingertips. Need a backup? Copy one (or all) of your pictures to a trusted location, so everything is safe and sound.
Take your Places with you on the go!
Our culture is changing. Office no longer means a room where you keep your bobble head collection, but a place you happen to be working at any given moment. Keep Places on a USB drive to connect to your files 24/7. There is no easier or more productive way to manage your places.
File Compressor
With the built-in compression functions, files can be bundled and stored in one single archive. Compress large files, open zip files or password protect your data. The perfect way to backup and manage all your important stuff. Use .zip, .tar, .gzip, .7z or go wild and .tar a .zip; the choice is yours.
OS :
Windows XP, Vista, 7, 8
Language
: English
Home Page
-
http://www.coffeecup.com/places/