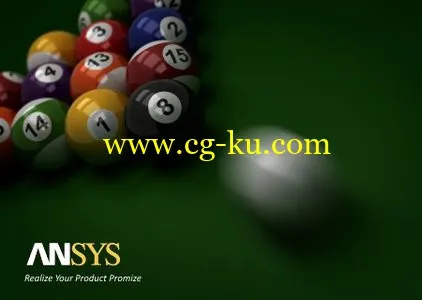 Ansys 16 Tutorials & Training Materials | 13.3 Gb
ANSYS, Inc. announced the availability of its leading engineering simulation solution, ANSYS 16.0, offers advanced functionality enabling engineers to rapidly innovate new products.
The best way in which you can learn to use and understand ANSYS, is to install it first on your computer and use training materials on internet. In this moment, you must focus on tutorials which resolve very simple problem, which can be done very easy and there solution can be check easy with some hand calculus. Because not only to know command from ANSYS is important (attached materials, contacts through parts, boundary condition, etc) also the mesh is important, do it in parallel tutorials which learn you how to made different type of mesh, how differ the results only if you will change mesh. Of course, to learn how to use Design Modeller is important too, especial to made simplifications on bodies imported from different softwares and formats.
After you have already little experience and you know basic commands and principle, participate to specialized training. In this manner you will fix your goal and the progress will be visible by you. Don´t forget that the study which you will observed on Internet is made by the engineer which have some years of work with ANSYS. So, be realist and start with begin because there is your final scope to be an specialist. Unfortunately for this you must begin with basics knowledge.
Included:
AnsoftLinks
ANSYS AIM
ANSYS Aqwa
ANSYS Autodyn
ANSYS BladeModeler
ANSYS CFD
ANSYS CFD-Post
ANSYS CFX
ANSYS Composite PrepPost
ANSYS Customization Suite
ANSYS Designer
ANSYS DesignerRF
ANSYS DesignerSI
ANSYS DesignModeler
ANSYS DesignXplorer
ANSYS EKM
ANSYS Explicit STR
ANSYS Fluent
ANSYS Fluent Meshing or Tgrid
ANSYS HFSS
ANSYS ICEM CFD
ANSYS Icepak
ANSYS LS-DYNA
ANSYS Maxwell
ANSYS Mechanical
ANSYS Mechanical APDL
ANSYS Meshing
ANSYS nCode DesignLife
ANSYS PExprt
ANSYS Polyflow
ANSYS Q3D Extractor
ANSYS Remote Solver Manager
ANSYS Simplorer
ANSYS SIwave
ANSYS SpaceClaim
ANSYS SpaceClaim Direct Modeler
ANSYS TurboGrid
ANSYS Workbench
System Coupling
other
About ANSYS, Inc.
ANSYS brings clarity and insight to customers' most complex design challenges through fast, accurate and reliable engineering simulation. Our technology enables organizations ? no matter their industry ? to predict with confidence that their products will thrive in the real world. Customers trust our software to help ensure product integrity and drive business success through innovation. Founded in 1970, ANSYS employs over 2700 professionals, many of them expert in engineering fields such as finite element analysis, computational fluid dynamics, electronics and electromagnetics, embedded software, system simulation and design optimization. Headquartered south of Pittsburgh, U.S.A., ANSYS has more than 75 strategic sales locations throughout the world with a network of channel partners in 40+ countries.
Name:
Ansys
Version:
16 Tutorials & Training Materials
Home:
http://www.ansys.com
Interface:
english
OS:
Windows 7even / 8
System Requirements:
Ansys 16.0 and above
Size:
13.3 Gb