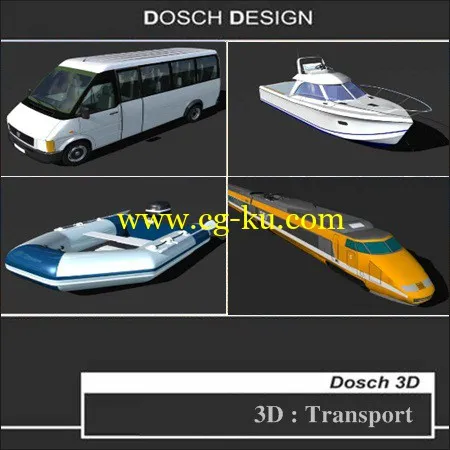 DOSCH DESIGN 3D Transport
max | 3D models | 42 MB
The product contains 32 detailed 3D-models of transportation vehicles. Included are a.o. buses, trucks, construction machinery, small ships/boats, a train.
Use them in technical illustrations and architectural visualizations.
Combined with the other Dosch 3D and Dosch Textures products (e.g. D3D-Buildings, D3D-Engineered Structures, D3D-Trees & Conifers, D3D-Cars, DT-Texture Aging Kit etc.) you are able to create absolutely lifelike 3D-scenes and animations.
The 3D-models are provided in multiple file formats: 3DS, C4D, DWG, LWO, MAX and OBJ.
Since Dosch Design does not (cannot) know how the buyer will use/change the 3D models/objects of trademarked products we advise the buyer/user of D3D: Transport models/objects to contact the manufacturer of the transport vehicle prior (!) to the publication of the new 3D-designs, and verify that the -intended- final design product is in compliance with the legal use of the protected image/trademark.