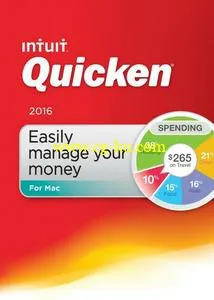 Intuit Quicken for Mac 2017 | MacOSX | 58 MB
Count on us to help you manage your money - Quicken 2016 for Mac is here! We make it easier than ever to manage your money, even on the go. Stay on top of spending and bills. Make smart investment decisions.
What's New
Quicken 2016 for Mac makes managing your money easier than ever. Whether paying bills, upgrading from Windows, enjoying more reliable downloads, or getting expert product help, Quicken's new and improved features will help you save time and get better control of your money.
Pay your bills from right within Quicken (New!)
- See and track them all in one place so that you never miss a bill
- See what bills have been paid, are coming up, or past due
- Easily pay your bills on time from right within Quicken*
Single-click upgrade from Quicken Windows to Quicken Mac* (New!)
- Convert from Quicken Windows to Quicken Mac in one click (excludes version from Mac App Store)
- Do it all right from your Mac (no Windows required)
- Easily import data from Quicken Mac 2015, Quicken Mac 2007, and Quicken Essentials with just one click
Export Category Summary and Tax Summary reports to a csv file (New!)
- Export these reports with a single click
- Enables you to analyze and graph data in Excel, Numbers, or your favorite spreadsheet app
- Send your Quicken data to your accountant, financial planner, or other non-Quicken users
Ability to transfer money between different accounts within your bank* (New!)
- Transfer funds from your savings account to your checking account
- User must enable transaction download with the associated bank account
OS
- MacOSX 10.7 or Later