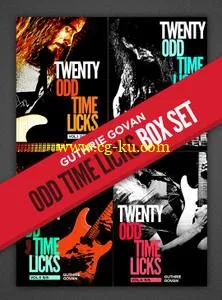 JTC - Oddtime Licks Boxset - Guthrie Govan
MP4+MP3+PDF | AVC 3474kbps | English | 1280x720 | 25fps | AAC stereo 189kbps | 2.24 GB
Genre: Video Training
Hailed by many as one of the greatest players of all time, world-class guitarist Guthrie Govan is back to give you the gift of mastering odd time signatures once and for all. With 5/4, 7/8 9/8 and finally 11/8 squarely in his sights, Guthrie gives you all the tools you need to play naturally over odd time signatures! By studying the videos and TAB and lifting the veil on odd time soloing you will not only learn how to play like Guthrie using his incredible techniques but also gain an insight into his elusive way of thinking! Doing so will allow you to play creatively and comfortably over any odd time signature!
Guthrie says 'The general theme […] is to give you an idea about HOW to play in [odd time signatures], without getting scared, without getting bewildered and above all, without getting lost!
'My main priority when coming up with these 20 licks was just to go for rhythmic emphasis and to give you ideas of how you can phrase within that time signature rather than throwing any complex harmonic ideas at you. It seemed to me that it was better just to focus on one aspect of the music at a time, so harmonically it's very simple, and rhythmically you're free to explore using some of the ideas in these licks just as guidelines'.
'I think there's a lot to be said for overcoming your fear of odd time signatures just by kind of feeling your way around the structure of the bar and developing a sense for how far away the next 'beat 1' is going to be. The intention is that, as you work through these licks you get some sort of structural idea of how long the bar is and you start to feel to your way around the rhythmic stepping stones and it gives you confidence so that when you are improvising your own stuff you feel a little less lost and a little less at sea. Really there's no reason to be scared of odd time signatures.'
Not only will buying this complete box set equip you with some truly powerful techniques and ideas for learning to play of odd time signatures, but it will also save you some money along the way! And if that wasn't enough, purchasing this box set means you also get 5 bonus 11/8 licks exclusive to this box set!
As ever, we have accurately transcribed every note and included the TAB/notation in the download to help you learn and analyse Guthrie licks alongside the video performances. We have also included the licks in audio format, a 'lick backing track' and extended backing track, as well as bonus lick notes to aid your studies as you delve deeper into the mind of the guitar great, and learn how to navigate odd time signatures like a pro!
Package details
Fusion | Advanced | Box Set
What you get
Odd Time Licks Vol.1 - 5/4
Odd Time Licks Vol.2 - 7/8
Odd Time Licks Vol.3 - 9/8
Odd Time Licks Vol.4 - 11/8
Odd Time Licks - Bonus 11/8 Licks