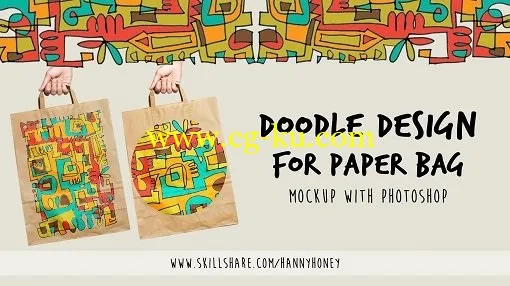 Doodle Design for Paper Bag Mockup with Photoshop
MP4 | Video: AVC 1280x720 | Audio: AAC 44KHz 2ch | Duration: 23M | 409 MB
Genre: eLearning | Language: English
Everybody loves doodle. Remember when you were in the primary school and you draw anything on blank space of your schoolbook ? Doodle is free-ing our minds. Doodle can be so addictive. You need only paper and pen.
I like to make doodle everyday to improve my hand. For about 15 years I used my hand and fingers more mostly on computer's keyboard or mouse. Then my fingers became so stiff and I could not write nicely using my hand again.
Only in 2014 when I found an art shop CassArt in Kingston, UK suddenly I bought pen, watercolor, brush, drawing sketchbook etc, then I started using my hand naturally to draw and doodle. Now my hand is back :).
So, let's use our hand naturally by creating doodle. In this class, you also learn how to color your doodle with Photoshop to create Paper Bag mock up. Why you need a mockup ? Mockup is a good way to show how your art will look like on something. You can prepare your portfolio as well to show it up to clients for illustration jobs.