Video Booth是一款有趣的摄像头照片快照和视频剪辑获取工具。Video Booth可采集内置或计算机连接的摄像机的快照,只要启动此应用程序,定位图像,并点击。可采集单一图片或采取四个连续图片,使用"连续拍摄"模式,使您的图片更特殊。Video Booth可使您的摄像头录制视频剪辑顺利和稳定。使用Video Booth,是相当容易,只需点击即可。更重要的是,Video Booth捕获的视频剪辑是非常顺利和稳定 。可以添加到您的视频,并上传到YouTube,并与您的家人和朋友分享更多的乐趣。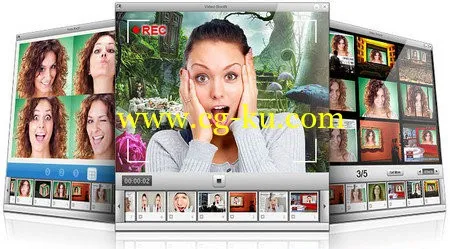 Take fun photo snapshots and video clips easily with your webcam using Video Booth. Add built-in smart effects to your photos and videos to make them fantastic and magnify the fun of sharing with friends as you can upload your works to website or YouTube directly.
Take snapshots - capture your special look easily.
Video Booth makes it easy to take snapshots with your built-in or computer-connected cameras. Just launch this application, locate images, and click. Take a single picture or take four pictures in succession using the "Continuous Shooting" mode which makes your pictures more special. Before photo is snapped, Video Booth flashes your screen to let you know that it is taking the last display showing in the main window.
Record video clips smoothly and stably.
With Video Booth, recording video clips by your webcam is fairly easy, just clicks away. What more importantly is that the video clips captured by Video Booth are very smooth and stable. Effects can be added to your video and make it more fun to upload to YouTube and to share with your family and friends.
How about adding some effects and see how fascinating it could be.
Using the effects to transform your look, make your smiles fantastic or freaky. Snap a picture of yourself in outer space, or take a walk in a beautiful fall woods. Start your journey of fun with all these effects offered by Video Booth which work perfectly for snap shooting and video recording.
Home Page -
http://www.my-video-booth.com/