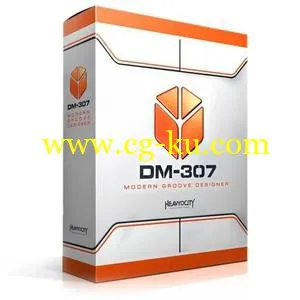 Heavyocity DM-307 KONTAKT | 4.4 Gb
DM307's samples are derived from modular synth drums, live percussion and classic analogue drum machines. In total, the library contains 7.5GB of uncompressed samples (although this only uses 4.8GB of hard-drive space with NI's lossless compression) with more than 3600 samples spread across 1500 plus presets. The library is a download-only product and will work quite happily with the free version of Kontakt Player or, as I used for the review, the full version of Kontakt 5. Installation and authentication follows standard practice for Kontakt and I had no problems with any of these steps.
While DM307 is built upon this extensive collection of loops and single-hit samples, it is various preset structures and the Kontakt-based sound manipulation tools that go a long way to defining what the instrument is about. I'll come to the Kontakt interface in a minute, but let's start with the library structure. At the top level, the presets are organised into instruments and multis, with seven instrument and two multi types. Many of the individual samples will appear in a number of presets, but the way they are presented, and what you can do with them, will be different in each case.

For example, the DM307 Style Kits instrument presets are each built on five groups of sounds: kicks, snares, hats, percussion and cymbals/FX. Within each kit, you get 12 different sounds in each group (12 different kicks, 12 different snares, etc.) mapped across five consecutive octaves of the keyboard. While you can trigger any of these sounds via the appropriate MIDI note, as we will see in a minute, the interface includes a five-lane grid editor for creating step-based patterns using these five groups of sounds. The Kit Groove instruments are based around the Style Kits but also include a series of patterns (for that five-lane grid editor). There are plenty of these presets and they are organised into genre-based themes covering Drum & Bass, Dubstep, Electronic, Hybrid Scoring, Industrial Edge, Latin Organic and Rock.
In both these instrument types, the sounds themselves offer a huge variety, from fairly conventional acoustic drums through to electronic and analogue synth drum sounds with and without processing. I could easily imagine the basic sounds working in contemporary film score, almost any style of modern electronic dance music and through into cutting-edge electronica. The Elements Kits each take a specific sound group — kicks, hats, snares, for example — and map a collection of sounds of that type across five octaves. The Impacts and FX group does something similar but with a series of much more unconventional sounds such as pitch dives, reversed hits, sweeps, sirens, risers and analogue hits. The Standard MIDI Kits map a selection of the Style Kits in a fashion suitable for standard third-party MIDI drum loops or a MIDI drum kit.
The Loop Menus group is also genre-themed, covering Electronic, Ethnic Mashup, Hybrid Scoring, Industrial Mashup, Urban Mashup and utility Elements. Each preset contains multiple octaves of mapped loops, some focused on one instrument type (snares, kicks, etc.) while in others you get a mixture of different single-instrument loops. The latter are great fun to experiment with; just hit a combination of keys and see what rhythmically interesting drum and percussion performances just pop out. The ease with which you can instantly create some really interesting and fresh electronic beats is just a touch embarrassing.