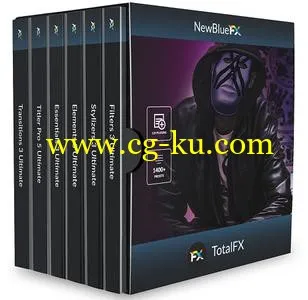 NewBlueFX TotalFX 5.0 build 170317 CE for OFX | 272 MB
NewBlue TotalFX 5 delivers over 1400 presets in 129 plugins in our most comprehensive collection of titling, transitions and video effects.
Includes the fully-featured Ultimate versions of our Elements, Essentials, Filters, Stylizers, Transitions and Titling lines. Now including Titler Pro 5 and Colorfast 2. TotalFX delivers it all for the serious video editor.
Bundled Products :
Elements 3 Ultimate
Essentials 3 Ultimate
Filters 3 Ultimate
Stylizers 3 Ultimate
Titler Pro 5 Ultimate
Transitions 3 Ultimate
Over 35 Transitions to Transport Your Audience
Bring your transitions to life with the over 400 presets in 37 plugins that provide a broad suite of cutting edge transitions. Use light, color and motion to deliver stunning, aesthetically fresh, scene-to-scene cuts.
Over 80 Effects to Save Time, Stylize and Correct
Dial in that perfect look, eliminate time-consuming tasks and correct color with over 800 presets in over 80 professional effects. Choose from plugins that key color, create video walls, deliver imaginative styles and enhance video with this collection of dynamic effects
Hosting Compatibility:
Black Magic DaVinci Resolve 11+
Sony Vegas Pro 10+ (64-bit OpenX)
Grass Valley EDIUS 7 & 8
Home Page
-
https://www.newbluefx.com/products/totalfx