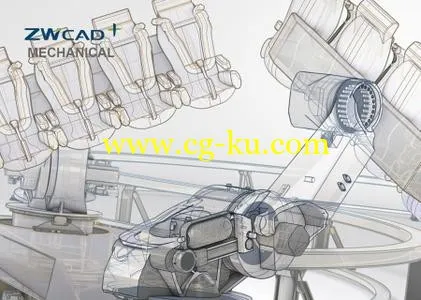 ZwSoft ZWCAD Mechanical 2017 SP2 2017.05.08 (17156) | 601.2 mb
ZWSOFT, an innovative supplier of CAD solutions to the AEC and MCAD industries, has released an update (SP2) to ZWCAD Mechanical 2017. This solution for manufacturing provides abundant tools such as shaft generator, tolerance dimension, surface texture symbol, balloon and BOM and standards parts for mechanical 2D sheet drawing.
About ZWCAD Mechanical 2017.
ZWCAD Mechanical 2017 provides tools like shaft generator, tolerance dimension, surface texture symbol, balloon and BOM, standard parts and many more. Revision is quite easy, double clicking and modifying the variable eliminate the need to remove and re-create the original objects which save hours of work.
- Built on ZWCAD and it is 100% DWG compatible
ZWCAD Mechanical 2017 is ZWCAD, except ZWCAD Mechanical 2017 has included an additional mechanical module and it provides extra tools for manufacturing. It can open and write DWG/DXF/DWF files and it is 100% compatible with other mainstream CAD software.
- Easy switch between international drafting standards
ZWCAD Mechanical 2017 delivers consistent and standard-based production results. It supports many international drafting standards such as ISO (International), ANSI (American), DIN (German), JIS (Japanese) and GB (Chinese). It also provides an easy way to customize standards for enterprises themselves.
- Intelligent balloons and BOMs association
ZWCAD Mechanical allows users to quickly draw standard-based balloons and then align and renumber them easily. It only takes one step to create a BOM, and standard parts can be automatically recognized and summarized to the BOM.
Every change to the balloon will be updated to the BOM, which ensures that data are always correct and up-do-date.
- Flexible and advanced dimensioning
For users to simplify tasks of annotating mechanical drawings, ZWCAD Mechanical 2017 provides flexible and advanced dimensioning functions. For example, with abbreviated dialog boxes, users can control and expand only the variables relevant to manufacturing, as well as integrate tolerance and fit list information. Smart dimensioning tools force overlapping dimensioning to automatically space themselves appropriately.
About ZWSOFT.
ZWCAD Software Co., Ltd. is an international CAD software provider through its network of over 300 partners in 80+ countries and regions. Its product ZWCAD is used by CAD designers across the AEC and MCAD industries.
Product:
ZwSoft ZWCAD Mechanical
Version:
2017 SP2 2017.05.08 (17156)
Supported Architectures:
x64
Website Home Page :
http://www.zwsoft.com
Language:
english
System Requirements:
PC
Supported Operating Systems:
Windows XP SP2 / Vista / 7even / 8.x / 10 / 2003(2008) Server
Size:
601.2 mb