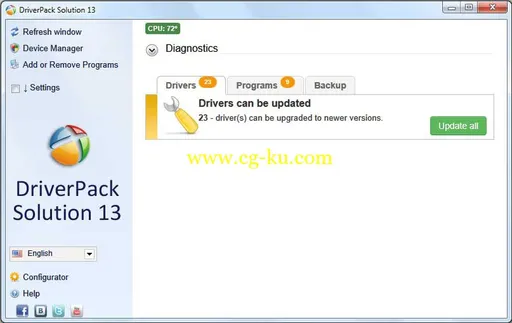 DriverPack解决方案专业13 - 功能强大的程序,它可以自动安装在计算机上的驱动程序的更新版本。这个版本有许多新的功能,并适用于所有平台(X86-X64)进行了优化,并且还支持新一代操作系统Windows8。
包括两个版本,一个是简装版,无需安装直接运行即可,更新安装驱动需要扫描从网上下载;另外一个则是完整版,体积比较大,不过配置强大的本地驱动资源库,BIOS更新(慎用)磁盘碎片整理和磁盘清理,检测CPU温度等等。相对国内几款驱动更新软件而言他少了很多"附加条件"和广告等等。
DriverPack
Solution
13 R399 Final
Utilities | Original Install File | OS: Windows XP/Vista/7/8 | 8.9 GB
Languages: English, French, Spanish, German, Italian, Russian, Dutch, Arabic, Chinese, Slovenian
Ukrainian, Croatian, Danish, Dutch, Finnish, Greek, Hebrew, Hungarian, Norwegian, Polish, Croatian
Portuguese (BR), Portuguese (PT), Romanian, Serbian, Swedish, Turkish, Vietnamese and others...
Advantages
DriverPack Solution
:
• Automatic driver installation: install all the drivers on virtually any computer for only about 5 minutes
• Save time: no need to spend time searching for drivers, install a few clicks
• Any driver for any computer all drivers on a single DVD-ROM! Simplify downloading new drivers from the Internet
• Ability to update drivers: update the existing driver to more recent versions
• Windows XP / Vista / 7/8 (x86-x64): supports all modern operating systems! As 32-bit and 64-bit versions!
• Ease of use: Simple and intuitive interface
• Ability to self-refinement: The open source
Program is used:
• home computer users
• System Administrators
• Computer Wizard
• Service for computer repair
• other people who are often faced with installing / reinstalling Windows
Pros of using:
• interface is friendly and intuitive
• intelligent technology classification drivers
• Multiple installation options (for the professional to the novice user)
• multilingualism (does not require linguistic knowledge and effort): English, Russian, Ukrainian, German, French, Italian, Spanish, Turkish, Azeri, Dutch, Lithuanian etc...
• Check the availability of new versions of software
Functionality DriverPack Solution 13:
• Efficient and fast search for drivers
• installation of drivers on virtually any computer, just a few minutes
• an "downgrade" from Windows Vista to Windows XP (even if the manufacturer has not posted on its website the driver under Windows XP)
• search and download the missing driver from the Internet, according to set parameters of the driver
• Quickly update an existing set of installed drivers to more recent versions
• Assist in creating and using your own database driver
The program is suitable for all models of computers. That includes drivers for laptops:
Acer, ASUS, HP, Dell, MSI, Samsung, Toshiba, Sony, Lenovo, Fujitsu, Fujitsu Siemens, eMachines, Packard Bell, Clevo, BenQ, Notebook, IBM, Apple, Intel, LG, Compaq, Depo, NEC, Gericom, Matsushita, Medion, K-Systems, Gigabyte, SiS, Gateway.
It will help download free drivers for:
Motherboard, sound card (audio), Video Card, Network Card, Wi-Fi, chipset, controller, Bluetooth (bluetooth), Modem, Web-camera, card reader, CPU, input devices, monitor, printer, scanner, USB, Other ...
What's new:
Updating the driver packs to version DriverPack Solution 13 Revision 399 + DriverPack`s 13.11.4!
The shell DriverPack Solution 13 has been updated to build 395
Update the programs that are held in the Soft
This version of the DRP supports Windows 8.1 and 8.1 RTM
Additional Information:
• In the Full-version added the driver packs Video_AMD_Server, Video_nVIDIA_Server, Video_Hybrid, Touchpad_Alps, Touchpad_Elan, Touchpad_Synaptics, Touchpad_Others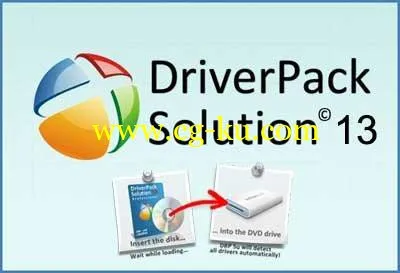 Home Page
-
http://drp.su/