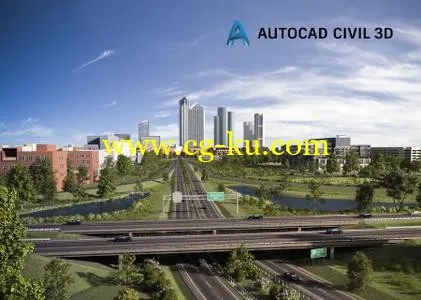 Autodesk AutoCAD Civil 3D 2019.0.1 | 3.7 Gb
Autodesk Inc., has released first update to AutoCAD Civil 3D 2019. New and enhanced features in Civil 3D 2019 improve design to construction documentation workflows with enhanced efficiency for design, production, collaboration, and data exchange.
What's new in Civil 3D 2019:
- Profiles
Offset profiles are more accurate with support for vertical curves.
- Subassemblies
Expanded corridor capabilities with more than 60 additional subassemblies.
- Sections
Represent 3D solid objects more accurately with more control over visual properties.
- Pressure pipes
Meet more design standards with additional fittings and appurtenances.
- Label property set data
Add custom data to Civil 3D object labels by using property sets.
ENHANCED
- InfraWorks interoperability
Use preliminary design models within Civil 3D.
- Advance roundabout design
Bring new roundabout designs into Civil 3D.
- Civil 3D with Revit
Enhance structural and civil design collaboration.
New Feature and Feature Enhancement Summary (Autodesk AutoCAD 2019.0.1 Update):
Problems Reported Through the Customer Error Reporting Utility:
As a result of the detailed information that we received from customers who used the Customer Error Reporting Utility, we were able to identify and fix several defects with the following results:
General
- Startup crashes after loading a partial CUIX file after resetting settings to default no longer occur.
General Update Content:
Several additional defects have been fixed with the following results:
Display
- The draw order in a block definition is maintained when inserting the block.
Editing
- When grip editing is in progress and dynamic input is turned on, pressing the Tab key cycles between the full distance, the angle, and the extension distance.
General
- The Open from Web & Mobile and Save to Web & Mobile buttons on the Quick Access toolbar in 64-bit versions can now be hidden or removed.
- The division symbol in stacked fractions can now be changed between horizontal and diagonal.
- The tool palette path can now be changed from the default value without being reset when exiting the Options dialog box.
About Autodesk AutoCAD Civil 3D.
Autodesk AutoCAD Civil 3D software is a civil engineering design and documentation solution that supports Building Information Modeling (BIM) workflows on a variety of civil infrastructure project types, including roads and highways, land development, rail, airports, and water. AutoCAD Civil 3D helps civil infrastructure professionals improve project delivery, maintain more consistent data and processes, and respond faster to project changes, all within the familiar AutoCAD environment. Additionally, users can help streamline time-consuming tasks such as intersections, roundabout and corridor design, parcel layout, pipes and grading with specific tools and customisable design standards.
Main features include:
- Task-based tools to manage GIS data and aggregate GIS data with design data.
- Create plans, profiles, and cross-sections for roads, land development, and other civil designs.
- Consistent project standards with drawings organised in a project-based structure.
- Access spatial data stored in files, databases and web services.
- Standard data schema, automated business workflows, and report templates for Electric North America, Electric Europe, Water, Wastewater, Gas industry.
- Intelligent civil objects that interact to create interconnected designs along with configurable styles that enable Civil 3D to automatically conform to nearly any graphical standards.
About Autodesk.
Autodesk helps people imagine, design and create a better world. Everyone—from design professionals, engineers and architects to digital artists, students and hobbyists—uses Autodesk software to unlock their creativity and solve important challenges.
Product:
Autodesk AutoCAD Civil 3D
Version:
2019.0.1
Supported Architectures:
x64
Website Home Page :
http://www.autodesk.com
Language:
english
System Requirements:
PC
Supported Operating Systems:
Windows 7even or newer
Size:
3.5 Gb