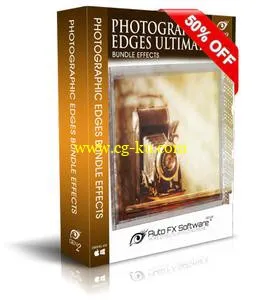 Auto FX PhotoGraphic Edges Ultimate Bundle Gen2 v9.6.0 | 2.51 GB
PhotoGraphic Edges Ultimate Bundle Gen2 is professional grade software used to add Edges, Frames and Borders to enhance the finished version of your digital images. Currently, PhotoGraphic Edges Ultimate Bundle Gen2 contains over 10,000 Edge, Frame and Border effects within the 32 effects categories.
Included in the new PhotoGraphic Edges Ultimate Bundle Gen2 is a vast collection of Film Frames, Darkroom Effects, Grunge Edges, Natural Media Borders, and dozens of other new styles with over a thousand pieces of new creative content. We have also created over 300 pre-made layouts and instant effects to get moving quicker. Other new features include new Storyboards and provide the ability to Brush-On Edges. Users of Auto FX Software find themselves pleasantly surprised that the photo realistic darkroom edges available to them with the many software enhancement solutions help the user create any conceivable result desired.
An example of this is the feature in Polaroid Transfer. The user can create Polaroid Transfers resembling a realistic result without expensive camera lens filters. Polaroid Transfers generate results making it difficult to distinguish between the PhotoGraphic Edges Gen2 digital enhancements and reality generated through expensive camera equipment and lens filters.
Operating System:
Windows® 10, Windows® 8 / 8.1, Windows® 7
Home Page
-
http://www.autofx.com/photo-effects-software/photo-graphic-edges-gen2.html
Password/解压密码
-0daydown